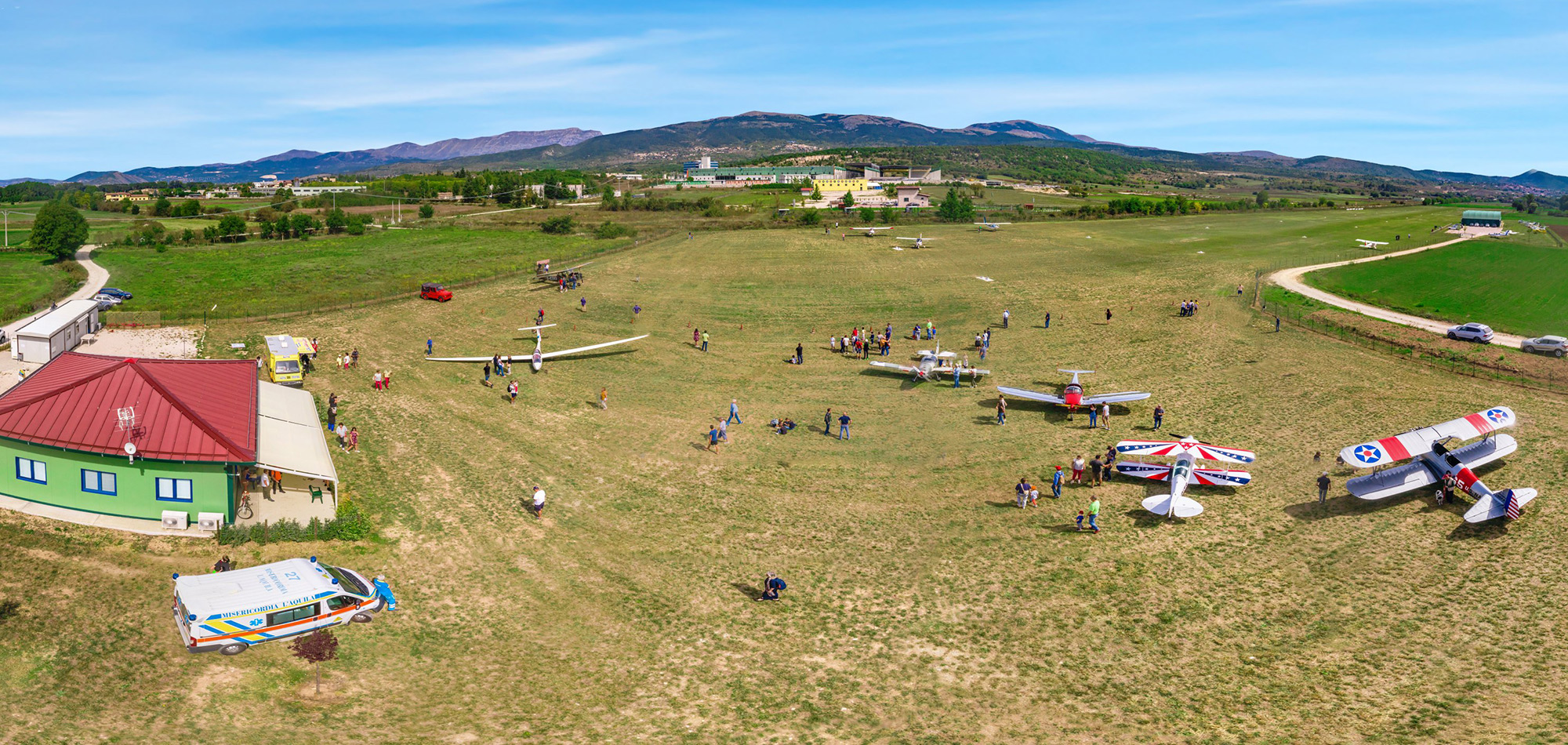 Be advised that from the 28th of August 2020 the use of the airfield "Aviosuperficie L'Aquila" is temporary allowed to locally based traffic only. We are working hard to make sure pilots with airplanes, helicopters, gliders or ultralights arriving from other locations will be able to land and use our airfield again in a near future. Please, contact us for more information.
The Aviosuperficie L'Aquila is located between the municipalities of Poggio Picenze and Fossa in the province of L'Aquila, approximately 12 km east of the city of L'Aquila in the Abruzzo region.
The airfield is private and managed by Aero Club L'Aquila. The airfield has been authorised during the year 2012 from the following authorities:
ENAC - Italian Civil Aviation Authority (prot. 0098865IEA 31/07/2012)
Police headquarters of L'Aquila
Municipalities of Poggio Picenze and Fossa (prot. 1639 16/07/2012)
The airfield has been built up in accordance with the regional law 52/2010 and, as required from the same legislation, it has been included in the Civil Protection infrastructure system and it is fully available for public safety and emergency.
The airfield is open for the flying activities 365 days a year from sunrise to sunset. The Aviosuperficie L'Aquila has the following physical characteristics:
1873 ft AMSL / 571 m AMSL
Grass runway delimited by cones spaced 50 m apart, orientation 29 - 11, Dimensions: Length: 650 m Width: 30 m. Further 150 m are available for the take-off on runway 11 (very useful particularly for the gliders towing)
Windsock positioned on the northern side, roughly at half the length of the runway
Taxiway parallel to the runway NOT delimited by cones. It is 20 m wide and runs on the southern side of the runway
3 hangars for a total dimension of 40 m in length and 18 m in width
Fuel station with AVGAS and MOGAS available for the Aero Club L'Aquila use only
Club house with a self-contained classroom, briefing room, toilets, offices, kitchen and social area
Barbecue and leisure area for recreation outside the club house